OK, that is kind of a weird title! LOL! But, it's just some fun new goodies! Today is Feb 1st and you know what that means! Bake Sale! This month is HUGE! It is the one year anniversary of the GingerScraps Buffett and we are celebrating by reliving all of the previous buffets! All the designers have added more and more goodies to all the buffets! There is SO much to drool over!
Not only that…everything is only $!.00!! All the new goodies are only $1.00!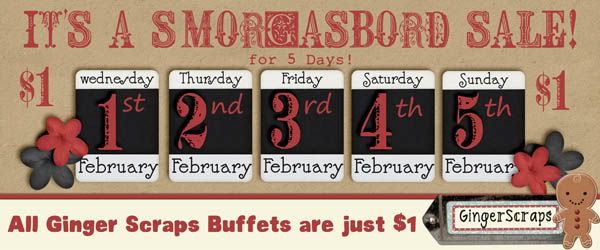 Here is the whole shebang! Beware..it's a lot to look at!!
Whew! I told you that was a lot! I hope you are ready for some big shopping!!
Let me give you a closer look of the 2 things I made for the buffet.
First up are these "Love Checks Templates"
With these "Love Check" Templates you can make your own personalized, romantic and fun "Checks"
Just add you digi papers and ellies to the layers. Or just print them as they are!
Add some romantic sayings and give them to the love in your life!
Add some cute and fun sayings and give them to a friend or your kids! They make super cute valentines and birthday gifts!
PSD, PNG and PAGE Formats included.
Sarah made these with my Love Check Templates and Puddle Jumpers.
Crystal made these..
Now, I have something else really special! It is hand made by me!
Colors of my Life..Button and Felt Fun!
Included is 15 different hand cut felt shapes with real buttons sewn on by me! All in the Colors of My Life palette!
Professionally extracted! Creative and Personal Use! Yes, you heard me right, Creative use too!
And don't forget! These are all on sale for $1.00 each! Even the Button and Felt Fun!
Come on over to GingerScraps and get your shop on! Sale time baby!
OK! I better end this huge post! Talk to you soon!