Well, today is Friday. Wow, what a week. Life is in full gear right now for this household. The end of the school year is coming upon us. Kids are getting spring fever. My daughter has spent the last 2 weeks working and working to finish up her senior project. It turned out fabulous.
And look her fingernails even match her desk! LOL! Isn't that cute! We decided to try the Sally Hansen Salon Effects REal nail Polish Strips. They were on sale and Buy one get one half off
It says on the box it can last up to ten days. We put them on on Easter Sunday. So it has been 6 days now and they are not chipped at all. Mine are on my toes. We even shared the pack..being the frugal gals we are. WE just cut them in half. My little toes are so small, they don't need a whole strip! You just have to be careful to not make the half you hold while cutting "Un-sticky" They are great though. My toes look so cute.
On the Saturday before Easter I had a very special Photo shoot. My friend Jennifer from high school came into town for the weekend so we could do a family photo session with her and her 3 babies. It was great to see her after too many years. She and her kids were fabulous subjects. And we laughed and reminissed about all our silly times back in the day during the shoot.  Hear are a few of my faves. 
WE had some fun too (of course)
So, Friday..usually I have new goodies for you in my GingerScraps store, but not today. I have been working on something really super great..but, you don't get to see it until May 1st. Only 2 days away. It is really fun though and perfect for everyone
 You will love it!
Ok now, all of my scrapping fans, you know NSD is right around the corner. We are getting all geared up at Gingerscraps for a heck of a great time. You might even see a special little fun thing from one of these pictures I just shared
Shhh.
I'm just so excited about this weekend. *We at GingerScraps have plans to make all your wishes come true that weekend. *It starts with a sale. *Not just any sale, a BIG sale. *A 40% off sale! *Add products to your wish list and our designers will grant them! *Add them also to the forum for another chance to win. *We will have chats, speed scraps, double entries into our challenge prize pot....the list goes on and on.
So if there is anything in my store at GingerScraps that you have been eyeballing, go put it on your wishlist! You might just get your wish granted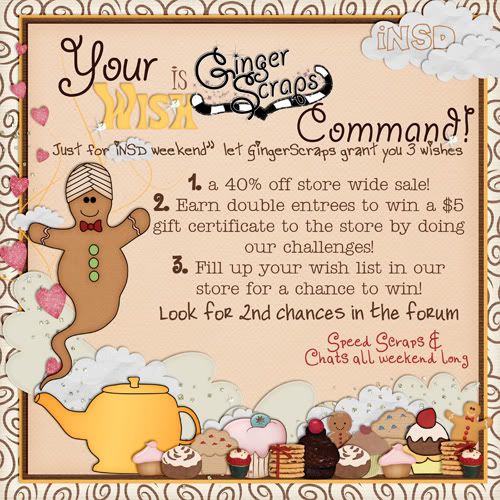 It's super easy. Just go into my store. Look at the goodies, when you see something you want click on "Add to Wish list" that's it! You are done! The store will save your wishlist for you and I can go and see all your wishes!
I will be back her in a few days with my super new goodies. have a great friday! I hope the sun is shining on you where ever you are! Oh, Hey do you like my new header?